Welcome to the Shetland Folk Festival
Sorry, but Internet Explorer 7 (and below) is not supported by our site. In order to view and use the site as it should be, and to use our membership and ticket systems, please upgrade to a later version.
The 40th Shetland Folk Festival will be held between 28th April and 1st May 2022 and as the UK's most northerly folk festival, it is regarded as a prestigious event for performers, locals and visitors alike.In 2022, we are back after a 2 year enforced break and we very much hope that people will appreciate our efforts to provide concerts and a Festival Club in an appropriate way this year.
Organised by a voluntary committee (and run by an even bigger pool of volunteers) the Festival prides itself in reaching out to even the most far flung areas of Shetland. Concerts are organised throughout the isles, consisting of some of the best International, British and Shetland music that the world has to offer. In fact, visiting artistes are regularly dumbfounded by the quantity and quality of local musicians that our remote isles have to offer.
"This Festival requires a Government Health Warning - Nobody sleeps"
Dick Gaughan, 1981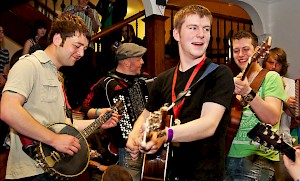 For SFFS members, there is a Festival Club in Shetland's capital, Lerwick, where you'll find formal and informal concerts, workshops, and fantastic "sessions". 
The event culminates with the Foy concerts on the Sunday night, where audiences have an opportunity of seeing most visiting acts in one evening. Held over three venues, the acts are shuffled between halls by mini bus and perform in each hall for around 15 minutes. It's crazy but it works!
Find information on how to travel to Shetland and how to purchase tickets.
Here's a little taster of whats in store and a video guide with useful hints and tips
(PLEASE NOTE - these promotional videos apply to Festivals of recent years.  There will be some adaptations in 2022 on how our Festival is staged.  See Membership Tab for more info)